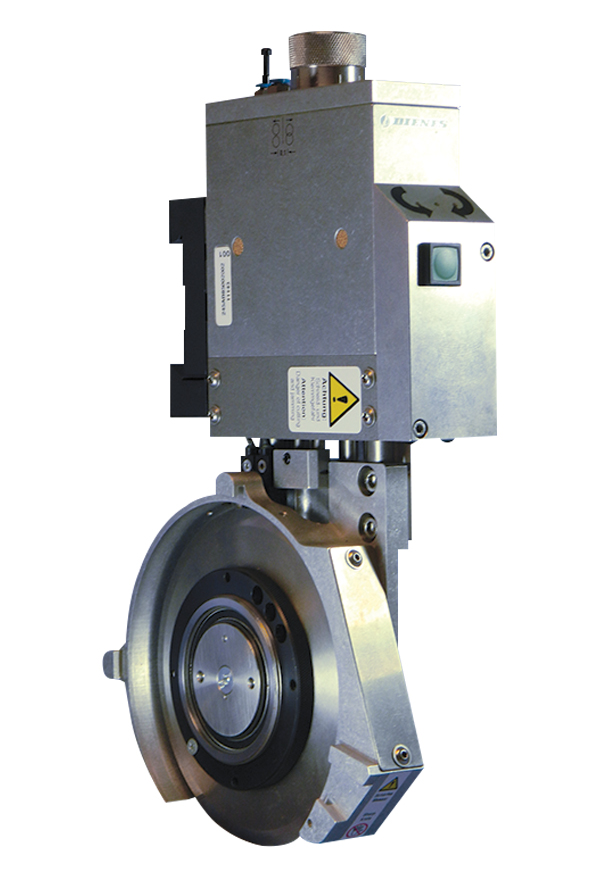 DF-50-130 Shear Cut Holder with LED
The DF-50-130 shear cut top knife holder is a high speed pneumatic circular knife holder. You can cut widths down to 50mm (1.97") at web speeds of up to 1371 meter per minute (4500 feet per minute). The DF-50-130 is designed around the innovative and well proven Dienes zero clearance double shaft guidance system for vibration damping and maximizing top knife holder rigidity which results in cleaner slits and longer circular knife life. A micrometer adjustment device allows for precise depth control setting to ensure the highest slitting quality. This top knife holder also includes a pneumatically adjustable side force control for the precision ball bearing guided lower head in order to maximize knife life and edge cut quality. Features include choice of dovetail or linear bearing mounts, 360 degree knife guard, quick change lower circular knife head, optional Easy-Set tab, 130mm (5.12") diameter circular blade and a TWO YEAR WARRANTY! When your operation requirements demand cutting know-how, high speed, and quality – call Dienes.
Download the DF-50-130 Shear Cut Holder Parts List – Lower Head
Drawing subject to change and may not represent the most up-to-date version.
Accessories
360° Guard – for operator safety
Oil Wicks – for blade lubrication
Vacuum Guard – to minimize slitting dust
ES-Tab – for bottom knife alignment on Center Linear Bearing mounting system
Spanner Wrench – for PQG holders only
Knife removal guards
Compare Products